18th C repro clothing vendors
Let's face it, we don't always have to time or inclination to make all the costumes we "need" for a particular event, so when crunch time comes who do you turn to if you want to purchase 18th C ready-made costumes? Since I know some friends have been sewing frantically for 18th C events I thought I'd share a few of my favorite vendors.
I love the
The Silly Sisters
. I've bought custom stays, 2 caps and a hat from them, and on my numerous trips to The Fort Frederick Market Fair I've seen many wonderful off the rack dresses, petticoats and jackets.
I also like
April C Thomas
, who sells at Fort Frederick Market Fair. I've bought mitts and a muff from her and I have friends who've bought other pieces of ladies' wear from her.
Verdanta
is one of my favorite Etsy sellers. I've bought two 18th C frock coats for my husband from her and couldn't be more pleased with the cut, fabric choices and price. She also sells women's gowns and petticoats as well as some early 19th C costume pieces.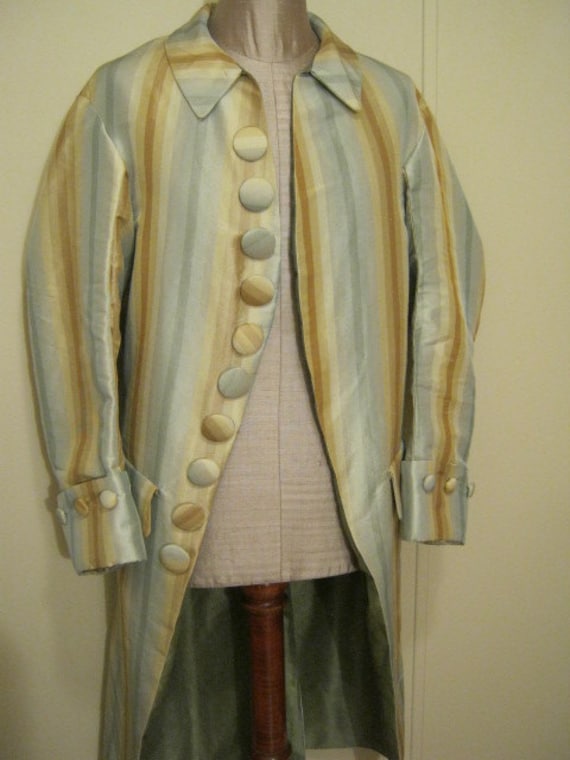 This coat is very similar to the one I bought my husband
Jas Townsend
is my old standby for 18th C menswear, I've bought shirts, a great coat and breeches from them and was very happy with the quality and price.
Keep in mind when you buy "off the rack" you are buying just that; unless you're extremely lucky the fit will rarely be as good as tailor made, but sometimes it can be the perfect solution when you have a time crunch.