Accessories Challenge #1 Hats: Florabunda!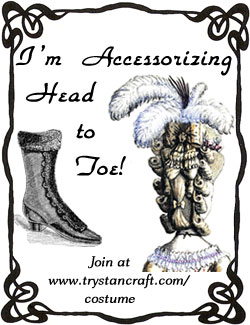 Not exactly what I'd thought I was going to do for this challenge but I've had flowers on the brain lately. I've always envied the ladies at the
LA Day of the Dead
with
amazing flowered headdresses
, but have resisted buying one from the vendors there because I was pretty convinced it wouldn't be all that hard to make. So, taking my inspiration from
this group at Costume College
, the cool hairpiece tricks I learned in
Judy and AJ's
class at Coco, and
this amazing vendor on Etsy
, I went out to Michaels to buy some flowers...and spent the day making some flowered headdressess!
First I made a base out of
wonderflex
, using a heat gun to soften it and make pleats so it would curve around a head shape like an extra wide headband. Then I popped my blooms them off their stems and ripped the fabric part of the leaves off their plastic veins and stems. I hot glued some of the leaves onto the base to cover any white parts of the wonderflex that might show then hot glued the blossoms to the base and voila!
I wanted the head dress to be flexible enough that it would fit on my head but could also be used with wigs, even huge 18th C ones plus it just goes with my current plan of trying to make all my costumes more mix and match. So here it is on me with normal (slightly wet- eep!) hair and then on one of my 18th C wigs.
I also had a bunch of headbands I'd been meaning to cannibalize for hair accessories, as well as some braided synthetic hair, so I thought I'd make something a little more Victorian/Edwardian. I hot glued the braid to the headband and wrapped the ends of the braid in hot glued leaves to cover them. Then I hot glued on more blossoms, leaves and other greenery.
I thought this looked pretty Art Nouveau, kinda Ozma-eqsue, but that it could maybe work for a Mid-Victorian look if I added some more braids or sausage curls. Or even a Ren Fest Fantasy or fairy look. I even kind of like it on my 18th C wig! Maybe for an 18th C masquerade if I clipped a few more flowers into the wig?