Chinese Fantasy Bustle
I just can't seem to stay away from Victorian fancy dress, there is so much to love about it! Anyway it looks like I'll be doing it again this year for LoJ and probably the Costume College Gala. I saw some really cool masks when we went shopping in Chinatown that inspired me and I've been day dreaming about a Chinese fantasy bustle gown ever since. Then I was at home fabrics and discovered that they had put most of their Asian rayon/silk brocades on clearance...so there was really no choice! After trawling the web for inspirational images I decided that I wanted to do a fantasy Victorian gown inspired by the gowns the ladies wore in the Tang Dynasty. I just love the romantic styles of these gowns and the long sweeping sleeves. And I LOVE the crazy hair ornaments and flowers!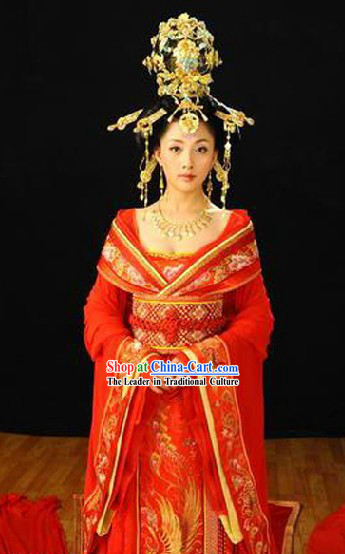 Mine will be much more Victorian looking than these images but I wanted to try and capture a bit of their flavor. I may also make the huge sleeves a bit shorter, I've been eyeing Mina's red gown and the black and green one from Dracula as further inspiration. You can check out all of the images I've collected
on pinterest.
I've been trying to be more mix-n-matchy with costumes lately to save on closet space so I decided to make the underskirt out of some black silk satin I got at Fabric.com in the old days when they had such things. That way I can re-use it as an underskirt for evening gown I've got my heart set on, maybe another fancy dress gown, and a mourning gown too! I'm going to do 1-2 rows of knife pleated ruffles on the bottom of the skirt and a poofed back. The over skirt and bodice will be red brocade with butterflies on it and the huge long sleeves will be lined with red/gold geometric brocade. I've got a bunch of pleated black grosgrain ribbon, some black frogs a slew of beaded trims I'm going to play around with to trim it.
Here's what I've got so far: The fabric is a bright candy apple red with whites/blues/golds in the butterflies.
The sleeve lining is the same bright red with gold metallic
And where I'm at so far - the goal is to be done for Labyrinth of Jareth at the end of June!